Allan Abbott, author of "Pardon My Hearse," has died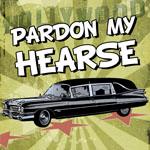 We regret to announce the death of Allan Abbott, "funeral director to the stars" and author of the memoir "Pardon My Hearse." Allan died at his home in Monterey on Thanksgiving Day, at the age of 77.
Allan had a colorful life with more than his fair share of adventures and brushes with great and famous people. A co-founder of Abbott & Hast Mortuary, Inc., of Los Angeles, Allan participated in the funerals of numerous celebrities, including Marilyn Monroe, Natalie Wood, Clark Gable, Jack Benny, Gary Cooper, Ernie Kovacs, Jack Warner, Mario Lanza, David O. Selznick, and Karen Carpenter.
Allan liked to boast that he was the last man to hold Marilyn Monroe in his arms. He was holding Monroe's dead body in place while an embalmer did cosmetic work on the back of her neck, but that's just a technicality.
Allan and his business partner Ron Hast founded Abbott & Hast in 1957, delivering flowers to funerals and offering body removal services to morticians. Over the years, Abbott & Hast grew to become a full-service mortuary, a supplier of vehicles and props to film and television productions, and the publishers of Mortuary Management magazine. In addition to building his company and managing funerals, Allan created several notable innovations in the funeral industry, including designing custom hearses and containers for shipping caskets by air.
Allan told the remarkable rags-to-shroud story of his career and celebrity encounters in "Pardon My Hearse," published just few months before his death. In his book, Allan wrote of the early struggles to establish his business, gave the inside dope on many celebrity funerals, and vividly portrayed the strange intersection of entertainment and death in Hollywood.
A remarkable man with a keen and puckish sense of humor, Allan will be missed.