Available for the first time in the United States, The Shôtôkan Karate Dictionary is an indispensable resource for every karate practitioner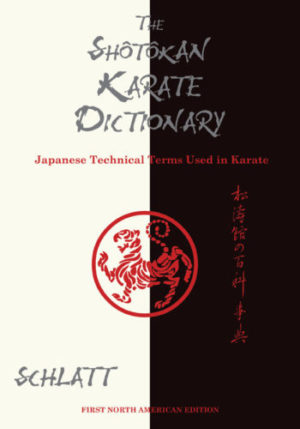 Karate is much more than a martial art — it's also a serious intellectual study steeped in Japanese philosophy and culture. Knowing the various terms used in the dôjô — and fully understanding their meaning — is an essential step in mastering karate.
The best English-language resource for understanding karate terms is now available for the first time in the United States with the new North American edition of The Shôtôkan Karate Dictionary: Japanese Technical Terms Used in Karate (Quill Driver Books, June 2019) by German karate instructor and translator Schlatt.
Illustrated throughout with color photographs of karate stances and techniques — plus clear English definitions of karate terms — The Shôtôkan Karate Dictionary is a unique reference guide indispensable for every martial arts library.
The Shôtôkan Karate Dictionary is a complete compendium of essential terms of the practice of karate-dô, with special focus on the Shôtôkan style. Clear, easy-to-understand, and accurate English translations of Japanese karate terms, plus color photographs of essential karate stances, movements, and techniques, will give karate students a firm foundation in karate terminology.
Additionally, a Japanese pronunciation guide and exquisite calligraphy of the Japanese characters (kanji) of each term will deepen students' understanding of karate's cultural roots.
This comprehensive reference book covers the Japanese numerical system, different target levels and directions of movement, the basic elements of karate training, basic and advanced katas, as well as the Japanese terms for typical instructions and commands karate students will hear throughout their training.
The Shôtôkan Karate Dictionary also goes deeper to provide readers with background information about the cultural and philosophical foundations of karate practice. Besides definitions of stances and movements, The Shôtôkan Karate Dictionary gives definitions of the Japanese terms for the important spiritual conceptions and cultural practices that underlie karate.
Further sections explain the rules that govern the dôjô, the origin of the name karate-dô, the thoughts of famous Zen masters and the Twenty Precepts of Gichin Funakoshi, the founder of Shôtôkan karate.
Comprehensive and clear, The Shôtôkan Karate Dictionary is a must-have reference for every practitioner, teacher, student and enthusiast for karate.
About the Author: Schlatt was born in Lauda, Germany, in 1964 and started the practice of karate-dô in 1979. He has studied karate in over 20 countries and has taught in several dôjôs in Germany. Schlatt qualified for the Canadian National Karate Team for the 1996 Japan Karate Association World Championship. In 2016, Schlatt received his sixth Dan from Hideo Ochi, chief instructor of the Japan Karate Association of Germany and Europe. Schlatt's Japanese and Chinese cultural and language studies began in 1985 at the University of Freiburg and he received his masters degree from the University of Tübingen in 1994.
At the 1990 Gasshuku in Kempten, Germany, Schlatt translated for Norihiko Iida. This was the first time that instructions by a Japanese guest coach were translated directly from Japanese into German. Due to Schlatt's deep knowledge and understanding of Japanese language and culture, he is still a favorite interpreter for Japanese guest instructors at events inside and outside of Germany.