In an old house on Martha's Vineyard, the dead won't stay silent — and a marriage disintegrates — in the new horror novel In the Midst of the Sea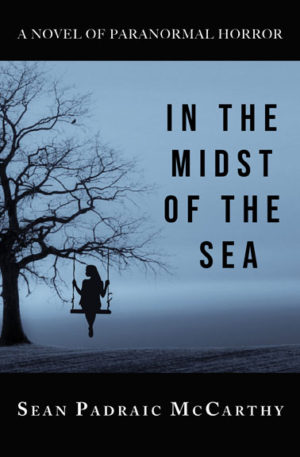 "Dark, emotional, and incredibly creepy … In the Midst of the Sea is a haunting debut from a talented new voice." —Foreword Reviews
An old house on a lonely island contains secrets, remnants of the past and an explosive marriage in the new horror novel In the Midst of the Sea (Pace Press, May 1, 2019) by Sean Padraic McCarthy.
A moody, atmospheric and terrifying thriller reminiscent of classic Stephen King, In the Midst of the Sea is a gripping, elegantly written story of supernatural horror and psychological realism that slowly reveals that the greatest danger is the people closest to you in your own home.
Trapped in an isolated old house on Martha's Vineyard in winter, Diana Barlow is either seeing ghosts or losing her mind. After an estrangement from her parents, Diana came to Martha's Vineyard to start a new life with her husband Ford and young daughter Samantha. The beautiful Victorian house that Ford inherited seemed the perfect home for a fresh beginning.
But in the winter, when the tourists go home and the island is deserted, Diana is afraid she's going crazy. Specters of people long dead flicker in and out of her vision. The antique dolls in her house never stay where they're put. Samantha suddenly has a whole group of imaginary friends who live in the house and tell her terrible things.
While Diana doubts her sanity, Ford is becoming increasingly moody, unpredictable, and violent. Has the strange atmosphere the house affected him as well? Or is he finally revealing the person he always was? Diana's marriage slowly disintegrates, as Ford develops a possessive jealousy over Diana, Samantha and the house.
The mysteries of the old house deepen when Diana finds a strange book in the basement — the journal of Elizabeth Steebe, whose husband built the house in 1871. Diana finds an eerie parallel between her own life and Elizabeth's, as she reads Elizabeth's fear-filled chronicle of her religion-crazed husband's descent into abuse and insanity.
As Diana researches Elizabeth's fate, she begins to wonder whether the phantoms she encounters on the Vineyard are illusions or a glimpse into the past, and whether Elizabeth's journal was left to her as a warning.
In another parallel between Elizabeth's and Diana's lives, both meet men who seem to understand the forces connecting them. In the 1870s, Elizabeth learns of the spirit world from the trance medium Paschal Beverly Randolph, while in the modern era Diana meets the painter Michael Chiaro, who believes that Diana is experiencing psychic imprints from the past.
With Michael's help, Diana begins to understand how the terrible events that happened to Elizabeth have left a lingering imprint in her house that is creating her bizarre experiences and tapping into Ford's consuming rage.
Soon Diana is forced to act to defend herself. The past, the present, the living and the dead fatally intertwine, and Diana realizes she and her daughter must escape — if Ford and the house will let her.
Combining a realistic portrayal of a destructive relationship with a sophisticated variation on classic horror, In the Midst of the Sea is an impressive debut novel by a gifted new writer.
About the Author: Sean Padraic McCarthy's short stories have appeared in Glimmer Train, The Hopkins Review, Prole, Supernatural Tales, The Indianola Review, South Dakota Review, The Sewanee Review, 2 Bridges Review, Water~Stone Review, Hayden's Ferry Review, Shadowgraph Magazine, Fifth Wednesday Journal and South Dakota Review. McCarthy's story "Better Man"—originally published in december magazine—was listed as a "Distinguished Story" in The Best American Short Stories 2015. He is a ten-time Top 25 Finalist in the Glimmer Train Fiction Open Award, and a 2016 recipient of the Massachusetts Cultural Council's Artist Fellowship in Fiction Award. He lives in Massachusetts.
Book Details:
Author: Sean Padraic McCarthy
Publisher: Pace Press, an imprint of Linden Publishing
Publication Date: May 1, 2019
Price: $16.95 US
Category: FICTION / Horror
ISBN 978-1-61035-334-2
5¼" x 8″ trade paperback, 322 pages. Also available in e-book formats.