The Minimum Wage Manhunter returns to bag groceries and a killer in "Cleanup on Aisle Six"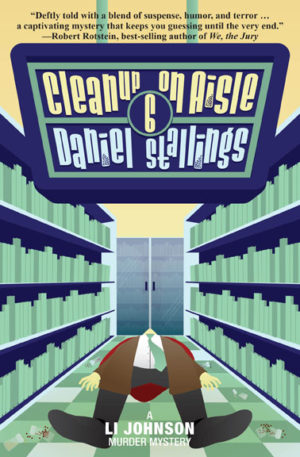 We first met amateur sleuth Liam "Li" Johnson in Sunny Side Up, when his job from hell as a cruise ship waiter turned into a murder investigation. Now Li returns in a brand new adventure in Cleanup on Aisle Six.
Li can't help blundering into murder scenes, even though he's just trying to get by. Li is a different kind of amateur detective who brings a fresh, young, working-class sensibility to the traditional murder mystery. Li solves the intricate murders that the cops can't, but he's not a refined English gentleman of the interwar period — he's a modern California twentysomething struggling to get by in the low-wage economy.
Li's desperate to find a job, any job, and he thinks he's caught a lucky break when kindly supermarket clerk Reuben Rodriguez gets him work at Esther's Family Grocery. Li thinks he'll never have to play detective again, but when his floor duster bumps into the body of the local newspaper's famously vindictive restaurant critic, bludgeoned to death in the spice aisle … and the evidence suggests that Li's new friend and benefactor Reuben might be the murderer.
Determined to clear Reuben's name, Li sets out to find what really happened to the shopper in aisle six. But getting the truth will force Li to match wits against the city's shadowy political boss (the perky and commanding "Mrs. Mayor") and a homicide detective who hates amateur sleuths.
Intricate, witty and fast-paced, with a gallery of suspects and a refreshingly good-hearted hero, Cleanup on Aisle Six is a delightful adaptation of the classical murder mystery into the modern world of starvation wages and underemployment.