Dr. Ruth promotes her new book "Myths of Love"—a smart look at the sexy side of ancient myth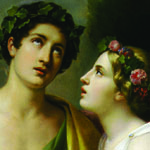 Here's Dr. Ruth Westheimer on WPIX-TV in New York this morning talking about her latest book, "Myths of Love: Echoes of Ancient Mythology in the Modern Romantic Imagination," which will be officially released next week—although we will certainly be happy to let you have a copy now.
"Myths of Love," co-written with classical scholar Jerome E. Singerman, is an exciting new departure for Dr. Ruth. In "Myths of Love," Dr. Ruth applies her trademark frankness and fearlessness to Greek and Roman legend, showing how even the ancients grappled with modern dilemmas of gender identity, female sexual pleasure, men's and women's social roles, jealousy, infidelity and more.
Written in an erudite but approachable style, "Myths of Love" is a fun and sexy introduction to the great classical myths and how they still influence the way we think about relationships today.