Taste a sample of "400 Things Cops Know" — a hilarious and action-packed look at life on the beat, coming in October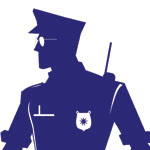 Adam Plantinga, a talented new writer and a sergeant with the San Francisco Police Department, has learned some amazing things during his 13 years as a police officer. For example, did you know that if you find an amputated limb on the street, you absolutely should NOT put it on ice? The limb needs to stay dry to be reattached. (What, you've never found a random leg in the street? It happens all the time.)
As it happens, cops know a lot of things that civilians generally don't. So Plantinga is sharing these facts, and 399 others, in his upcoming book "400 Things Cops Know: Street-Smart Lessons from a Veteran Patrolman," scheduled to be released in October 2014.
No-nonsense and dryly humorous, Plantinga tells what he's learned on the job, from how to know when a suspect is carrying a weapon to what it's really like to be in a high-speed car chase. "400 Things Cops Know" is surprising, hilarious, and sometimes deeply moving —altogether, it's a terrific book.
And here's your chance to get a sample of Plantinga's work before anyone else. Click the link below to check out some sample chapters of "400 Things Cops Know" before its release in the fall. It's like time travel, but without any risk of harming the space-time continuum.