New screenwriting guide The Craft of Scene Writing presents a master class in writing emotionally powerful scenes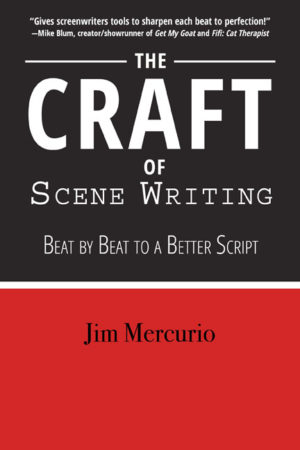 No one comes out of a movie talking about structure. What audiences love and remember about a movie are great scenes. Marlon Brando in the back seat in On the Waterfront giving his "I could'a been a contender" speech. Meg Ryan's fake orgasm in Katz's Deli in When Harry Met Sally with the climactic punch line: "I'll have what she's having." In Superbad, Jonah Hill professing "I love you" to his friend Michael Cera by touching his nose with a "boop." Great scenes elevate a film script from ho-hum to extraordinary — and from the slush pile to sellable.
Screenwriter and writing teacher Jim Mercurio presents a master class in the techniques of writing emotionally powerful scenes in the new screenwriting guide The Craft of Scene Writing: Beat by Beat to a Better Script (Quill Driver Books, publication date February 1, 2019).
While previous screenwriting guides emphasize story structure, The Craft of Scene Writing is the first book for screenwriters that focuses entirely on writing great scenes. Other books on screenwriting look at turning points, reversals and surprises at a big-picture, structural level of acts and sequences; The Craft of Scene Writing examines the same elements at the microscopic level of beats, scenes, dialogue and even action description.
Mercurio argues that while story structure has been honed to a near-exact science, structure alone doesn't ensure a successful screenplay. It's the detailed craftwork of scene writing that breathes life into a story and makes audiences identify with characters and care about their fates. Great scenes develop a screenwriter's voice and make a script stand out from paint-by-numbers imitations that merely follow the story structure formulas.
Mercurio teaches that every single scene in a script needs to be a story in itself that creates a surprise or
reversal. And when a scene incorporates both a twist in the plot and a change in the characters' internal states, it has the greatest potential to profoundly engage an audience.
Writing powerful scenes won't just make a screenplay a better work of art. Great scenes also make a script more attractive to producers, directors and actors — making a script more likely to sell.
The Craft of Scene Writing analyzes and systematizes the individual elements that create dynamic scenes: beats, conflicts, character moments, specific actions and lines of dialogue. The Craft of Scene Writing cites specific examples from popular classic scripts, old and new, to show how great scenes reveal character and advance the story.
After establishing the principles of scene writing, The Craft of Scene Writing goes on to teach readers practical techniques to immediately improve their scenes and scripts. Mercurio demonstrates that every element that a writer wants to develop in a script — motivation, conflict, resolution, character growth — must be dramatized in dialogue and action at the scene level.
The Craft of Scene Writing also gives additional advice on polishing one's scenes during the rewriting process, plus Mercurio's quick guide to screenwriting principles, "14 Steps to a Better Screenplay."
The Craft of Screenwriting isn't just for screenwriters — its in-depth examination of detailed storytelling techniques is also indispensable for playwrights, novelists, short story writers, speechwriters, comedy writers, copywriters and other creative artists.
An incredibly detailed exploration of screenwriting technique, The Craft of Scene Writing will help beginning writers to write great scripts and experienced writers to gain a more complete mastery of their craft.
Author: Jim Mercurio
Publisher: Quill Driver Books, an imprint of Linden Publishing
Publication Date: February 1, 2019
Price: $18.95 US
Category: Performing Arts / Film / Screenwriting
ISBN 978-1-61035-330-4
6″ x 9″ trade paperback, 400 pages, index. Also available in e-book formats.