And weird! "California Fruits, Flakes, and Nuts" celebrates the losers, lunatics and lechers who made California the strangest place on earth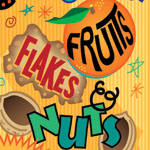 David Kulczyk (that's pronounced Coal-check) is one of our favorite California history authors, because he loves to poke around in the dark, sinister and less reputable corners of the past. Kulczyk previously covered lynchings and assassinations in "California Justice" and terrible stories of murder, suicide and really stupid accidents in "Death in California".
Now Kulczyk tackles the very heart of California strangeness in his just-released new book, "California Fruits, Flakes, and Nuts: True Tales of California Crazies, Crackpots, and Creeps".
With stories both hilarious and heartbreaking, "California Fruits, Flakes, and Nuts" is a freewheeling catalog of misfits, eccentrics, creeps, criminals, sickos and failed dreamers — 48 bizarre personalities who exemplify the Granola State's well-deserved reputation for nonconformity.
You won't find any sanitized heroes here. In "California Fruits, Flakes, and Nuts," Gold Rush pioneers are revealed as murderous madmen; Hollywood celebrities are shown to be drug-addled sex maniacs; early hippies are just 1950s weirdos; and even seemingly ordinary Californians have a talent for freakish, crazy and criminal behavior.
Among the stellar Californians that Kulczyk profiles, you'll meet Marvel Parsons, and honest-to-God rocket scientist who dabbled in black magic and taught L. Ron Hubbard everything about running a cult; 1850s politician David Terry, whose dueling, Confederate sympathies and near-conviction for murder didn't stop him from serving as Chief Justice of the California Supreme Court; wife-killing country star Spade Cooley; the king of all California freaks, legendarily awful film director Ed Wood; and numerous other nutjobs, oddballs and dangerously violent freaks.
It's the perfect gift for anyone who likes to feel superior to losers. Order "California Fruits, Flakes, and Nuts" today from Quill Driver Books.