New! "Behind San Quentin's Walls" tells a rip-roaring Wild West story of the early years of California's famous prison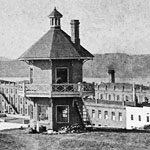 I can't think of anything more California than the fact that San Quentin Prison was founded as part of a complex real estate scheme. I learned that from the newest book from our California history imprint Craven Street Books: "Behind San Quentin's Walls: The History of California's Legendary Prison and Its Inmates, 1851-1900" by noted Old West historian William B. Secrest.
"Behind San Quentin's Walls" tells the story of San Quentin from its earliest days up to the turn of the 20th century, and what a dramatic, Wild West story it is. Planned during the wildest days of Barbary Coast anarchy and Vigilante Committee lynch law, the state prison at San Quentin was the new state's first attempt to impose the rule of law on a violent frontier society inundated with thousands of fortune-seekers from every corner of the earth.
Featuring numerous citations from contemporary accounts, plus period photos, illustrations, newspaper clippings, and maps, "Behind San Quentin's Walls" chronicles the political calculations that created San Quentin; the outsize egos of the men who built it; the mismanagement and frequent escapes that marred San Quentin's early years; and the notorious ruffians and cutthroats who were housed there.
Filled with exciting true stories of gunfights, brawls, prison riots, daring escapes, and intrepid manhunts, "Behind San Quentin's Walls" is also a rip-roaring Wild West tale of how men and women with immense talent for both good and evil tamed a new state and each other—a bold mix of serious history and lively writing that no fan of Western history should miss.
Purchase BEHIND SAN QUENTIN'S WALLS today!