New book "Pardon My Hearse" featured in the Daily Mail — "Funeral Director to the Stars" dishes on Marilyn Monroe's funeral and death in Hollywood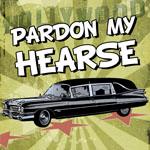 Our latest California history book, "Pardon My Hearse," debuted with a bang today with a feature in Britain's Daily Mail newspaper telling all about the book's amazing revelations about the funeral of legendary movie star Marilyn Monroe.
"Pardon My Hearse" is the memoir of Allan Abbott, the "funeral director to the stars," who worked on some of the most famous burials in Hollywood history, including the funerals of Monroe, Natalie Wood, Clark Gable, Gary Cooper, Karen Carpenter, Jack Benny, and Ernie Kovacs — just to name a few.
Abbott worked personally on preparing Marilyn Monroe's body for her burial, which was in a shocking condition after lying face down for hours between death and the discovery of the body. Abbott dishes the full story of how Monroe was made presentable for the funeral in "Pardon My Hearse," and you can read many of the gruesome details in the Daily Mail feature.
When Abbott wasn't burying famous corpses, Abbott drove celebrities to Hollywood parties and rented his vast collection of limos and funeral props to movie and TV productions. (Abbott's cars and equipment have appeared in over 300 movies, TV programs and commercials.) "Pardon My Hearse" presents a dazzling A-List of celebrities, living and dead, whom Abbott encountered during his career, including Richard Burton, Elizabeth Taylor, Joe DiMaggio, Robert Redford, David Niven, Frank Sinatra, Jack Lemmon, Peter Lorre and others.
A treasure trove of insight and gossip you can't get anywhere else, "Pardon My Hearse" is an eye-opening look at secret Hollywood from the man who literally knows where the bodies are buried.