New history "Fresno Growing Up" is a pure fun look at Fresno pop culture — book launch this Thursday at All Things Fresno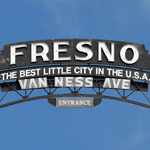 "Cities should have biographies, I think, not just histories. Cities are, in a very real sense, living entities that grow in directions that their founders could never have imagined," writes Stephen H. Provost in the introduction to his new book "Fresno Growing Up: A City Comes of Age 1945-1985."
At a time when Fresno is entering a new period of growth, revitalization, and cultural activity, "Fresno Growing Up" is an important book about the city's memory and identity that unashamedly celebrates what makes Fresno Fresno.
We're celebrating the launch of "Fresno Growing Up" with a book launch party this Thursday, Aug. 6, from 6 to 9 p.m. at All Things Fresno, 1424 Fulton St, Fresno, California 93721.
"Fresno Growing Up" is all about the life of the city as everyday people experienced it — what people did for fun, what they ate, where they shopped. "Fresno Growing Up" is pop history as pure fun, with chapters on businesses, restaurants, movie houses, malls, personalities, sports, bands and fads that defined Fresno during the bustling postwar period, when Fresno abruptly shifted from a small agricultural town to the fastest growing city in the United States.
With chapters on Fresno's urban development, ethnic and cultural diversity, downtown, retail stores, restaurants, TV and radio personalities, sport stars, schools, leisure activities, restaurants, bands and musicians, movie theaters and more, "Fresno Growing Up" presents a comprehensive picture of what it was like to live in Fresno during the postwar era and how Fresno became Fresno.
Get your copy of "Fresno Growing Up" today!