QDB author Tim Cole a finalist for Connecticut Book Award—plus a new Cole suspense thriller in 2022!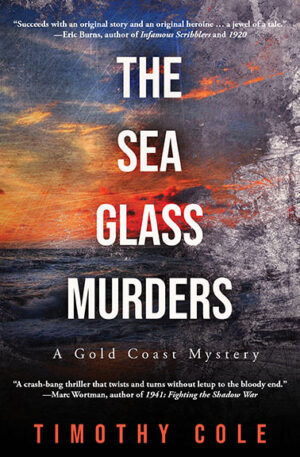 Author Timothy Cole is on a roll. Last year he introduced Dasha Petrov, an entirely new kind of mystery heroine, in his debut novel The Sea Glass Murders, which is now a finalist for the Connecticut Book Awards, presented by the Connecticut Center for the Book. And Dasha Petrov will return in Cole's next novel, Murder This Close, which we will release in June 2022.
The Sea Glass Murders is a finalist for the Spirit of Connecticut Award, awarded to books that celebrate Connecticut's sense of place. We'll grant that The Sea Glass Murders has a sense of place—set in the wealthy town of Westport, CT, the book oozes local color and character. But does the celebrate Westport? Cole's Westport is more violent than the real Westport. (Or so we hope—we don't think a headless corpse has ever been found in a dumpster there in real life.) Let's hope the Spirit of Connecticut judges make allowances for a suspense thriller.
Beautiful and glamorous as Westport is, it's unlikely the real Westport was ever the home of anyone as compelling as Cole's heroine Dasha Petrov. On the surface, Dasha looks like a nice old lady. In reality, she's one of the most lethal secret agents in the world. Elderly, aristocratic, and independently wealthy, Dasha fits in well in upscale Westport, Connecticut, home to the rich and powerful. But in her younger days, Dasha was a Nazi-killing partisan and a top-ranked OSS/CIA agent. Even in her retirement, Dasha retains her cunning mind and her capability for extreme violence.
In The Sea Glass Murders (available now from Quill Driver Books) Dasha partnered with Westport cop Tony DeFranco and TV reporter Tracy Taggart to unmask a murderer killing with impunity, protected by his position and power. And Dasha will soon return in a new Timothy Cole novel, Murder This Close.
A few years after the events of The Sea Glass Murders, Dasha is living a sedate life in Westport, spoiling her grandchildren and innocently flirting with two of her neighbors, Barnaby Jayne and Michael Aubrey, both wildly successful and many times married mystery writers who cordially despise each other. The writers' rivalry boils over into a bizarre feud that starts with a blowgun attack and escalates to booby traps and car bombs.
When Jayne and Aubrey both turn up dead, the evidence points to one suspect—Dasha herself. Now Dasha must fight to clear her name, find the real killer, and figure out why she was targeted, while dodging jealous wives, a sleazy tabloid reporter and his child spies, and a fearsome Mafia hitman, leading to a tense and dramatic confrontation.
Murder This Close will hit bookstores in June 2022, and is available for pre-order now.