Sainthood for Serra? Not so fast, says Elias Castillo, author of "A Cross of Thorns"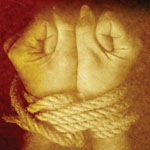 Pope Francis announced last month that he intends to canonize Junipero Serra, the founder of Spanish California's system of Roman Catholic missions. That's a slap in the face for California's Indians, says Elias Castillo, the author of our latest California history title, "A Cross of Thorns: The Enslavement of California's Indians by the Spanish Missions."
"I'm astonished by the decision to declare Serra a saint. This man was a torturer who created a system of death camps responsible for the deaths of 62,000 Indians and the destruction of California's Native cultures," said Castillo.
Castillo said that the historical record leaves no doubt that Serra was personally responsible for the policy of inflicting physical punishment on Indians at Spanish missions.
"Serra wrote a letter to the Spanish governor of California, Felipe de Neve, justifying whipping Indians to keep them under control. Mission Indians were also punished by wooden and iron stocks tightly attached to their legs that would tear their skin. Children as young as 10 years old could receive up to 10 lashes for infractions of mission rules. Serra was no saint, and he doesn't deserve to be called one," Castillo said.
Castillo's new book, "A Cross of Thorns," meticulously documents how cruelty toward Indians was the deliberate policy of mission leaders, citing archives of letters written by Serra and other mission officials, mission records and eyewitness reports from the late 1700s and early 1800s. In one letter, Serra advocated recapturing and whipping tribal members who attempted to flee the missions. In another document, Serra declared that "blows" were the only way to "civilize" Indians.
"A Cross of Thorns" covers the full scope of Spanish colonization in California, from the initial conquests and the founding of the missions to the decay and destruction of the mission system under Mexican rule. "A Cross of Thorns" also documents in depth the state of the California Indians before Spanish intrusion, the structure of economic exploitation that supported the missions, and the shock of European travelers who witnessed the barbaric treatment of the Indians.
Tracing the history of Spanish colonization in California from its origins to its legacy of shattered Indian communities that still suffer today, "A Cross of Thorns" is one of the most thought-provoking books ever written on California history.