Sally Pacholok, crusading nurse and health author, is featured in a new film and has just released her latest book, "What's Wrong with My Child?"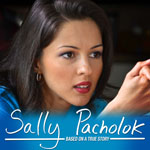 Sally Pacholok is a fighter. The author of "Could It Be B12?" and our newest title, "What's Wrong with My Child?", has been working tirelessly for over ten years to alert doctors and patients to the dangers of undiagnosed and untreated B12 deficiency. And now her fight has been featured in a new feature film, the biopic "Sally Pacholok," starring Annet Mahendru from "The Americans" as Sally.
Elissa Leonard, the director of "Sally Pacholok," describes Sally as the "Erin Brockovich of healthcare." The film "Sally Pacholok," which one First Prize for Best Narrative Feature at its premiere at the Washington DC Independent Film Festival, depicts how Sally herself suffered from B12 deficiency as a young woman. After being successfully treated, Pacholok noticed that many patients at the hospital where she worked as an ER nurse suffered similar symptoms but were given incorrect diagnoses. When Pacholok's efforts to improve treatment were met with resistance, stonewalling and indifference, she wrote "Could It Be B12?" and launched an awareness campaign that continues to this day.
And the newest phase of Sally's efforts is her new book, "What's Wrong with My Child? From Neurological and Developmental Disabilities to Autism … How to Protect Your Child from B12 Deficiency."
"What's Wrong with My Child?" is the only book for parents that offers a complete guide to detecting and preventing pediatric disorders caused by B12 deficiency. B12 deficiency can cause developmental delay or regression, learning and intellectual disabilities, seizures, mental illness, brain injury and even death. Covering every aspect of childhood B12 deficiency at every age, "What's Wrong with My Child?" presents strategies for healthy nutrition for mothers during pregnancy and breast feeding, early treatment for infants and young children at risk, and detecting subtle to severe symptoms of B12 deficiency in older children and teenagers
"What's Wrong with My Child" is available now from book sellers and from Quill Driver Books.
And check out this sneak peak at the new film "Sally Pacholok"!