« Return to Previous Page
by Daniel Stallings
"An Agatha Christie cast of characters seen with a modern eye, and with startling moments of both insight and compassion." —Anne Perry
The traditional murder mystery collides with an entirely different kind of detective hero in the new mystery novel Sunny Side Up. An engaging mixture of Agatha Christie–style intrigue and Millennial snark, Sunny Side Up takes a fresh approach to the traditional murder mystery with a modern sensibility and a working class amateur sleuth.
For 20-year-old Liam "Li" Johnson, a job as a cruise ship waiter was supposed to be a way to get over his father's death and earn enough money to go back to college. Instead, Li is struggling to maintain his sanity while coping with the demands of a sadistic maître d' and a boatload of entitled rich jerk passengers.
Li just wants to keep his head down and survive his job from hell, but when he finds a passenger sunburned to a crisp on the Sunbathing Deck, something about the scene just doesn't add up. Li starts asking uncomfortable questions … and gets some forceful pushback, including a whispering campaign suggesting that Li himself may have had something to do with the victim's death.
Before he knows it, Li is on the track of a murder … and if Li doesn't find the real killer soon, or he might just get framed for the crime — or worse, lose his crappy job.
A brand-new classic in the amateur detective genre, Sunny Side Up is a traditional murder mystery for the 21st century, with a glamorous setting, a gallery of suspects, clues that will keep readers guessing to the last page, and a delightful new hero in Li Johnson, the millennial minimum wage manhunter, who brings sleuthing to the service economy.
Audience: Lovers of traditional murder mysteries.
About the Author: Daniel Stallings' love of Golden Age detective fiction inspired him to bring the style of the classic murder mystery to modern audiences. In addition to writing mysteries, Stallings works in theater as a producer, director, and actor. He currently serves as President of the Eastern Sierra Branch of the California Writers Club. Stallings lives in the city of Ridgecrest in California's Mojave Desert.
AVAILABLE NOW!
$12.95 US • Trade Paperback • 6″ × 9″ • 206 pages
ISBN 978-1-61035-311-3
by Veronica Giolli
A Native American investigator returns to the reservation to find the truth behind her friend's death — and discovers family secrets and dysfunction — in the new mystery novel Whispers in the Wind.
When San Francisco fraud investigator Sunny Davis hears that her best friend Gina has committed suicide, it's emotionally devastating for Sunny … and the beginning of her determined pursuit to find the truth. Sunny can't believe that Gina would kill herself when she was raising small children — let alone that she would shoot herself while her children played outside.
Sunny returns to her childhood home, an Indian reservation in Nevada, to attend Gina's funeral and get some answers. But Sunny finds the situation back home even more puzzling. Gina's husband, Jesse, is disengaged and evasive. Gina's sister, Eva, seems absolutely unmoved that her sister is dead. Both only give noncommittal answers to Sunny's urgent questions.
When Sunny receives a psychic vision of Gina's brutal death and senses that Gina's spirit is contacting her, she realizes she must learn the truth. Sunny's investigation leads her deep into a complex mystery, her tribal culture's spiritual beliefs, and the secrets that tore apart Gina's family and threaten her own.
Combining fully realized Native characters, family drama, Native spirituality, the paranormal, and the everyday reality of modern Native American life, Whispers in the Wind is a fascinating detective novel that appeals to the logical and intuitive mind.
Whispers in the Wind introduces a new kind of detective hero in Sunny Davis, a smart and tough professional investigator who solves cases with equal parts deductive logic, psychic intuition, and spiritual insight, in a story that portrays grief, courage, and compelling insights into Native American families.
Audience: Mystery fans and readers interested in Native American culture.
About the Author: Veronica Giolli's mystery stories have previously appeared in The Poison Pen. She was a founding member of Writers of the Purple Sage Publishing Consortium in Reno, Nevada. While living on a reservation Giolli acquired firsthand knowledge of tribal customs and spiritual practices. This in part provided the inspiration to write Whispers in the Wind. Giolli lives in California's Central Valley.
An Asheville Mystery
by Kenneth Butcher
Publication Date: June 2, 2020
How do you solve a murder when the main witness is a crow? A bookish police detective and his roller derby star partner investigate a quirky mystery involving superintelligent animals, military conspiracy … and murder.
When a body is found in the River Arts District of Asheville, the man on the case is police lieutenant Ira Segal, recently returned to semi-active status after being shot in the line of duty and struggling with depression and PTSD. Segal maintains his precarious composure by carrying paperback books in his coat pockets as security blankets, changing authors with his mood — Elmore Leonard on good days, Ernest Hemingway on bad ones. Segal isn't sure he's up to investigating a murder, and neither is his partner, military veteran and local roller derby star Sgt. Dinah "Dinosaur" Rudisill.
Segal discovers that the victim worked for the mysterious start-up company Creatures 2.0, which trains animals to acquire uncanny capabilities. Creature 2.0's eccentric founder, Francis Elah, has gone missing, and no one can find him, not even Elah's top client, the Office of Naval Intelligence.
As Segal and Rudisill investigate the murder and Elah's disappearance, they encounter the bizarre animals Elah trained, including a raccoon who rolls cigarettes, pigeons who follow a priest to church, and a crow named Richard, who has a disconcerting way of bringing relevant evidence to Segal and Rudisill's attention.
When the trail leads to a shadowy military contractor, more murders, and a threat to national security, Segal and Rudisill don't know who to trust and face a dangerous confrontation.
Witty, engaging and fast-paced, As the Crow Dies is a mystery that veers from the norm in unexpectedly delightful ways.
About the Author: Kenneth Butcher is a materials engineer and researcher with sixteen U.S. patents. He was born in Washington, D.C., and grew up mostly in Ohio, where he was raised on a strict diet of science fiction, mystery novels, and classics. His first novel, The Middle of the Air, received Ben Franklin and Independent Book Publishers awards. His second novel, The Dream of Saint Ursula, is a mystery set in the Virgin Islands. Butcher lives in the mountains of Western North Carolina, where he continues to write and to research novel materials. He also publishes a podcast called The Middle of the Air, which concentrates on interviews with authors and artists who live or travel to the area. The podcast can be found at themiddleoftheair.com. His website is kennethbutcher.com.
$14.95 US • Trade Paperback • 5.25″ x 8″ • 378 pages
ISBN 978-1-61035-361-8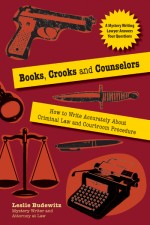 Subtitle: "How to Write Accurately About Criminal Law and Courtroom Procedure"
Using examples from actual cases, as well as fiction, movies and television, Books, Crooks, and Counselors answers real writers' questions on over 160 separate topics, including: criminal and civil law; differences between federal, state, and Native American jurisdiction; legal aspects of police and private investigation; criminal sentencing, including the death penalty; wills and inheritances; legal terminology; and the written and unwritten codes that govern the public and private conduct of lawyers and judges.
Winner of the 2011 Agatha Award for Best Non-Fiction Book of the Year. 
2012 Anthony and Macavity Nominee for Best Non-Fiction Book of the Year.  

Updating…