QDB author Leslie Budewitz presents a deliciously juicy puzzle in her new mystery "Crime Rib"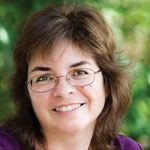 Leslie Budewitz, author of "Books, Crooks and Counselors," is on a roll. A tangy sourdough roll, made from locally sourced organic wheat and an authentic sourdough starter that's been used continuously by the same family of bakers for over a hundred years, topped with garlic butter. Ahem. Excuse me. Food metaphors seem natural when talking about Leslie, who's achieving great success with her new "Food Lover's Village" mystery series.
After winning an Agatha Award for Best Nonfiction Mystery Book for "Books, Crooks and Counselors," and then an unprecedented second Agatha Award for Best First Novel for "Death Al Dente," the first of the "Food Lover's Village" mysteries, Leslie has just launched another hit with her new mystery novel "Crime Rib."
In "Crime Rib," death stalks Jewel Bay, Montana's 35th annual food festival and steak grill-off. After a chef is murdered while a national food TV show is covering the festival, it's up to Erin Murphy, amateur detective and purveyor of locally sourced food, to capture the killer and save the reputation of the Food Lover's Village. It's a great mixture of delightful mystery and delicious meals, combined with the expert knowledge of investigation and law Leslie presented in "Books, Crooks, and Counselors."
Leslie recently spoke with the Writers Who Kill blog on her new mystery novel — read the whole interview to find out more.